Opis
These one-year subscriptions are designed to help you develop the skills and knowledge demanded by a growing technology market.
These versions are offered in both online training and video classroom formats, with high-quality content designed to prepare you for certification exams.
Subscribe to benefit from a full year of:
Live, instructor-led virtual classes: Benefit from an interactive classroom with added flexibility and convenience.
Access to Red Hat certified instructors: Virtual classes are taught by the same experienced subject matter experts who lead classroom trainings.
Flexible scheduling options: Various class topics and time options facilitate incorporating learning and preferences into busy schedules.
Focused training sessions: Participants can narrow their learning to more specific topic areas.
Choice of learning modality: A combination of self-paced materials and expert-taught classes maximizes learning.
Train without traveling: Learn when, where, and how it is best for you.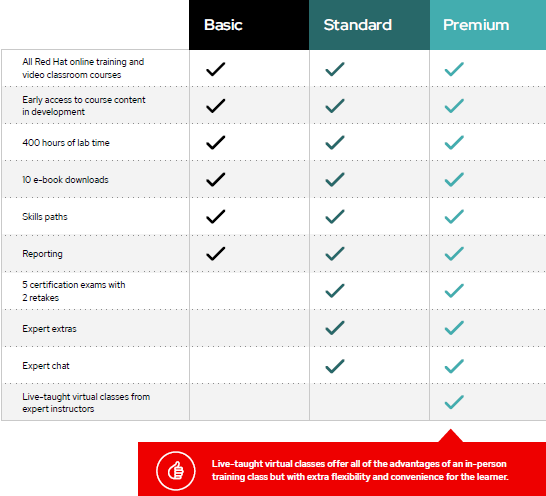 Cel
Fill skills gaps and address business challenges by taking advantage of unlimited access to our comprehensive curriculum.
Grupa docelowa:
For all students who want to learn Red Hat technology who cannot or do not want to participate in structured training.
More details
Review common subscription questions - FAQ
You can also read on https://osec.pl/red-hat-learning-subscription-rhls
Test to ensure your system is compatible with Red Hat Online Learning, virtual training systems, and other ways to train. Check before you buy - https://rhtapps.redhat.com/compatibility
Wymagania:
There is no prerequisites for Red Hat Learning Subscription.
Konspekt
Hands-on labs - Availability of 400 hours of cloud-based labs
All Red Hat online training and video classroom courses
Live-taught virtual classes from expert instructors