Opis
These one-year subscriptions are designed to help you develop the skills and knowledge demanded by a growing technology market.
These versions are offered in both online training and video classroom formats, with high-quality content designed to prepare you for certification exams.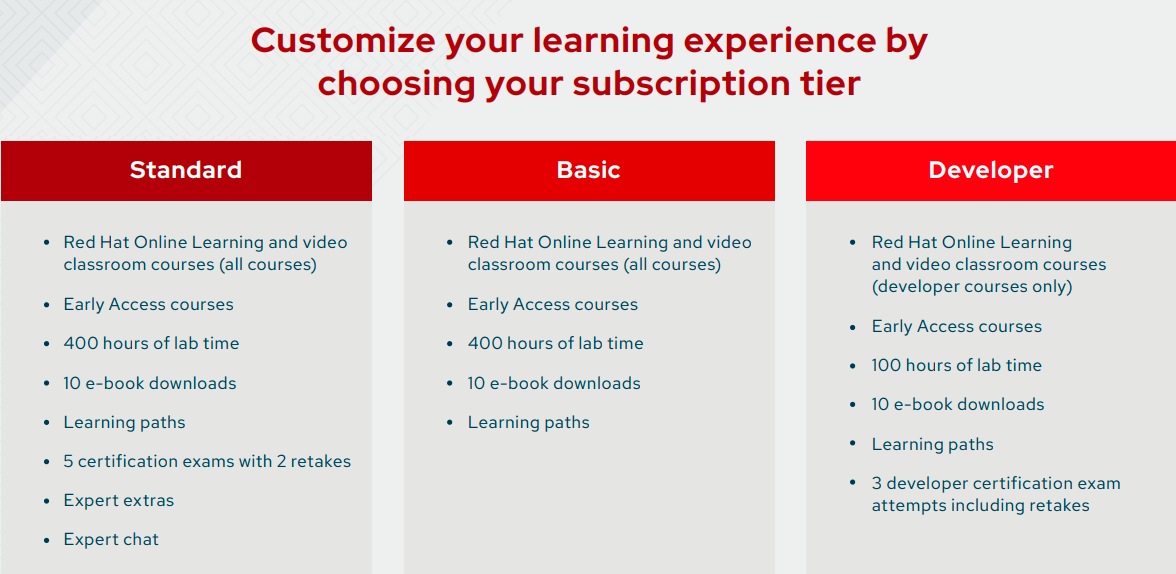 Red Hat Learning Subscription Developer contains courses on topics including:
Red Hat OpenShift
Red Hat Middleware
Red Hat Fuse
Containers
Kubernetes
Microservices
JavaTM EE
Apache Camel
Red Hat Decision Manager
Red Hat Process Automation Manager
Cel
Fill skills gaps and address business challenges by taking advantage of unlimited access to our comprehensive curriculum.
Grupa docelowa:
For all students who want to learn Red Hat technology who cannot or do not want to participate in structured training.
More details
Review common subscription questions - FAQ
You can also read on https://osec.pl/red-hat-learning-subscription-rhls
Test to ensure your system is compatible with Red Hat Online Learning, virtual training systems, and other ways to train. Check before you buy - https://rhtapps.redhat.com/compatibility
Wymagania:
There is no prerequisites for Red Hat Learning Subscription.
Konspekt